I realized something this weekend. I wish my life was one big revolving weekend. I think that's called retirement...
Saturday poor hubby had to work, so I took Allie next door to play with our neighbor, Niki. It's very ironic to me that we ended up living next door to a little girl that is exactly FIVE days older that Allie. Can't beat that for a playmate! We have been living in this house since November of 2006, right after the girls turned one. They get so excited when they see each other. Niki has a super cool swing set, which Allie loves to play on. Mike and Amy (the parents) set out her little pool and the girls had a field day.
Allie and Niki enjoying the pool
Amy pushing the girls on the swing
It sucks to be short
She loves to swing!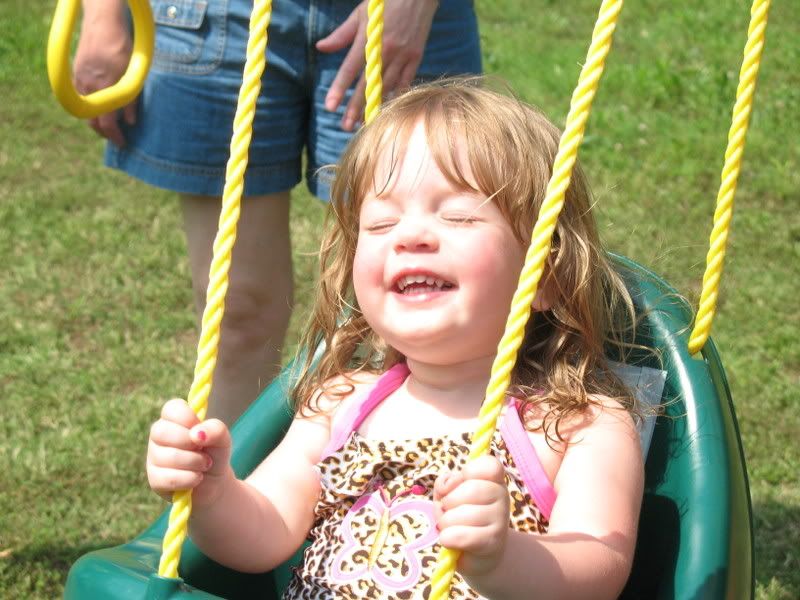 My third Mother's Day post-delivery was very nice. We started by going to church, where Allie behaved like a normal 2 year old would. My dad cooked a big bbq for us moms and we pigged out. Then I spent two hours on their couch watch The Deadliest Catch on the Discovery Channel. Then we headed home where I spent another several hours on our couch catching up on TiVo. When Allie went down for a nap, so did I! It was a great and very relaxing day. The only bad thing was that I went to bed with a huge migraine and don't feel great this morning. I think I'm coming down with something.
Chilling on the couch with mommy