I love to read blogs. I love to comment on blogs. So why not have a blog of my very own? Actually, I do.
http://www.brittanyscookingblog.blogspot.com/
. I love to cook, but then I went on a diet and stopped cooking anything fun, so that blog is basically dead now.
I'll start from the beginning. I'm the first of two (hence the blog title). I'm currently 28 years old and my younger sister is 26. I live in the South, the great, hot, humid, hurricane fearing, good eatin', redneck loving state of Louisiana. I've been married to my husband Ben for almost 5 years. May 30th is our anniversary. Where did the last 5 years go? I guess that's another post.
In October of 2005 we had our first child, a daughter we named Allie. She is the joy of our lives and we love her to pieces. We are not quite ready for another one just yet, although we have been talking about it a lot lately.
Us. This was taken on our first trip up "north" to Pennsylvania and NYC!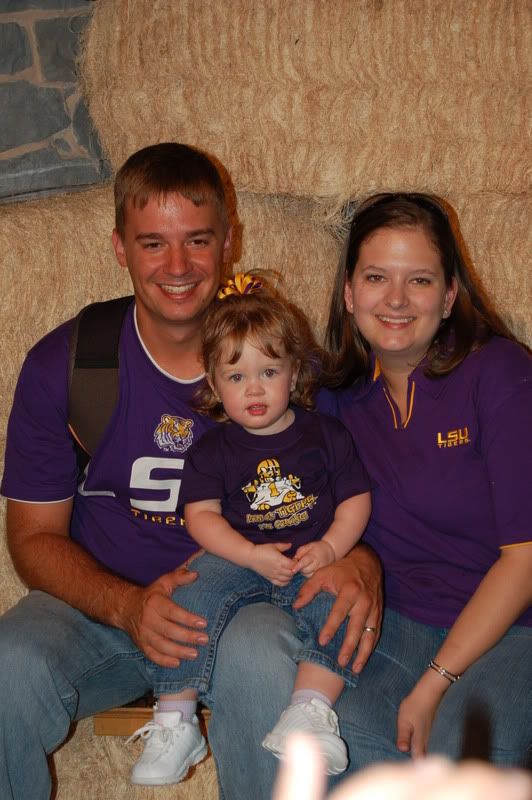 Ben and I went to high school together, but didn't date then. We didn't start dating until March of 2001, after meeting up again in a bar. Yes, a BAR. During Mardi Gras. That will be a great story to tell the grandkids one day. We dated for a little over a year before he asked me to marry him on April 20, 2002. It was quite a shock, since we were only together a little over a year. I still had a year of college left, but I kept my promise to my parents and I didn't get married until I graduated. So I graduated on May 17, 2003 and got married on May 30, 2003. How's that for timing?
We moved about 45 minutes away to Ben's hometown where most all of his family still lives (except for his parents and sister), where his grandfather remodeled a house for us that we were going to live in (RENT FREE) for up to 5 years. Woohoo! How exciting was that? But after 5 longs months of living in the middle of nowhere, and I really mean that, the grocery stores (there were only 2 of them), closed at 6:30 pm.
So....we moved to Atlanta, Georgia. Seriously. I was actually offered a job there and off we went. The next year and a half were pretty hard for us. Neither of us ever lived away from home like that before, so it was quite an adjustment. But we managed and even enjoyed some of our time there. In February of 2005, we came home. We were anxious to start a family and we knew we wanted to be close to our families. We did the unthinkable and moved in with the inlaws for a few months while I looked for a job and we bought a house. Then I found out I was pregnant. Living with the inlaws, no job and pregnant. We were thrilled! I found a job soon after and we found a house and moved in. Things were moving along well.